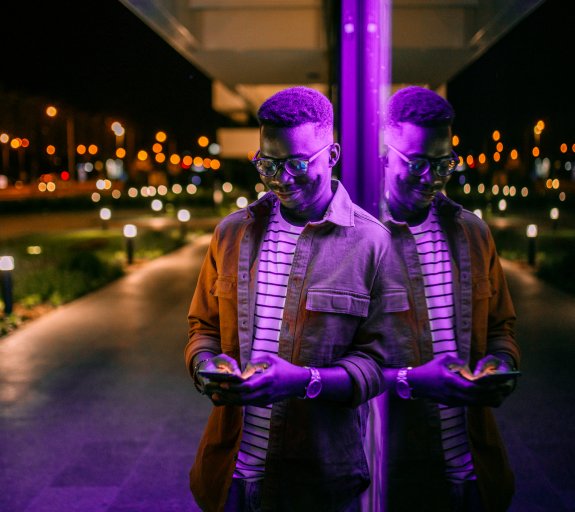 How the younger generations' new priorities shape investment opportunities
07 November 2023 (10 min read)
---
As Generation Z comes of age, soon followed by Generation Alpha, their priorities and preferences could reshape parts of the economy and lead investors to substantial returns.
The U.S. population has been aging, giving rise to a burgeoning Silver Economy, with the 65-plus population experiencing a growth rate of 38.6% for the largest-ever 10-year gain between 2010 and 2020.1 However, with the gradual exit of the Silent Generation and the Baby Boomers, and the arrival of Gen Z in the workforce, we may experience a potential Youth Boom Economy.
Gen Z, those born between approximately 1995 and 2010 (and our main focus), already comprises about 21% of the U.S. population.2 They will be followed by Gen Alpha, those born after about 2010, who make up 13% of the U.S. population so far.3  By 2030 this generation will account for 30% of the labor force.
As Gen Z joins Millennials and enters the workforce, the U.S. economy will likely experience higher consumption, wages, and housing demand, leading to a higher GDP, and providing a better outlook for Social Security and Medicare programs, as well as the potential for notable ROIs for today's investors as these trends come to fruition.
Financial priorities as younger generations enter adulthood
While the burden of student loans has hindered the economic power of Millennials, Gen Z is paving a different path, with many opting for shorter, more affordable direct-to-career pathways to avoid student loans.4 Meanwhile, half of Gen Alpha is expected to earn a university degree and stay in school longer than previous generations.5
According to Federal Reserve data, 47% of all student loan holders owe at least $25,000 of debt.6  For bachelor's degrees, this figure stands at 50%. The Student Loan Forgiveness Program would deliver a large boost to disposable income for Gen Z, enabling new borrowing and spending. However, the program is currently mired in legal challenges.  The average student loan borrower aged 18-39 spends 20% of their monthly income on student loans.7 Even partial relief under current or future administrations would support spending and borrowing by Gen Z, as it takes the average student debt holder 16-19 years to pay off their student loans.8
Image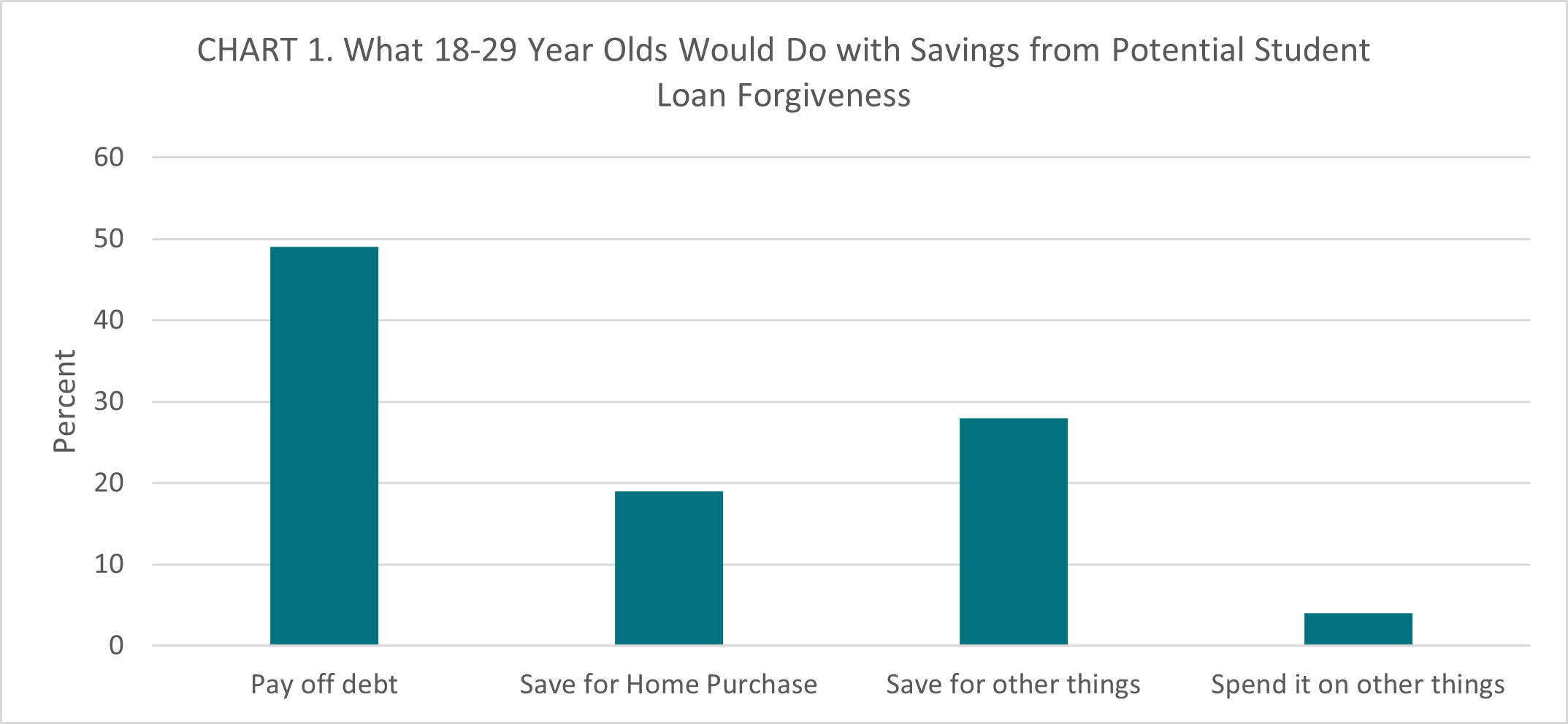 Source: Haver Analytics, Federal Reserve, Rosenberg Research (United States: Economic Well-Being of U.S. Households)
At the same time, Gen Z's income is growing and is expected to increase fivefold by 2030 – reaching $33 trillion – accounting for more than a quarter of global income and surpassing Millennials' pay by 2031.9 Clearly, this is shaping up to be a demographic that businesses will want to court in the year ahead and innovate accordingly.
A recent report found that 46% of members in Gen Z above the age of 18 have a side job.10  This highlights the recent emergence of the "gig economy" which includes individuals picking up work by doing ride sharing or delivering food and other items in their spare time. Businesses are, as a result, increasingly tapping into the demand from Gen Z for flexible work that fits around their lifestyles.
While Gen Z is often maligned for poor savings habits, members of this generation have in fact made impressive strides in taking hold of their own portfolios. A full 56% of Gen Z owns at least some investments, and 15% started investing before the age of 18.11 Social investing, meme-based bets, and crypto assets are a large part of this (19% of Gen Z owns only cryptocurrencies and Non-Fungible Tokens).
The long term winners from this trend will be the platform providers who captured the Gen Z market by offering "micro finance" investments, as67% of Gen Z investors say they started because they were able to start with small amounts.12 Providers such as Acorns, Robinhood, Stash, and Sofi Invest facilitate this kind of saving and will continue to provide such services to Gen Z as their investing habits mature.
Image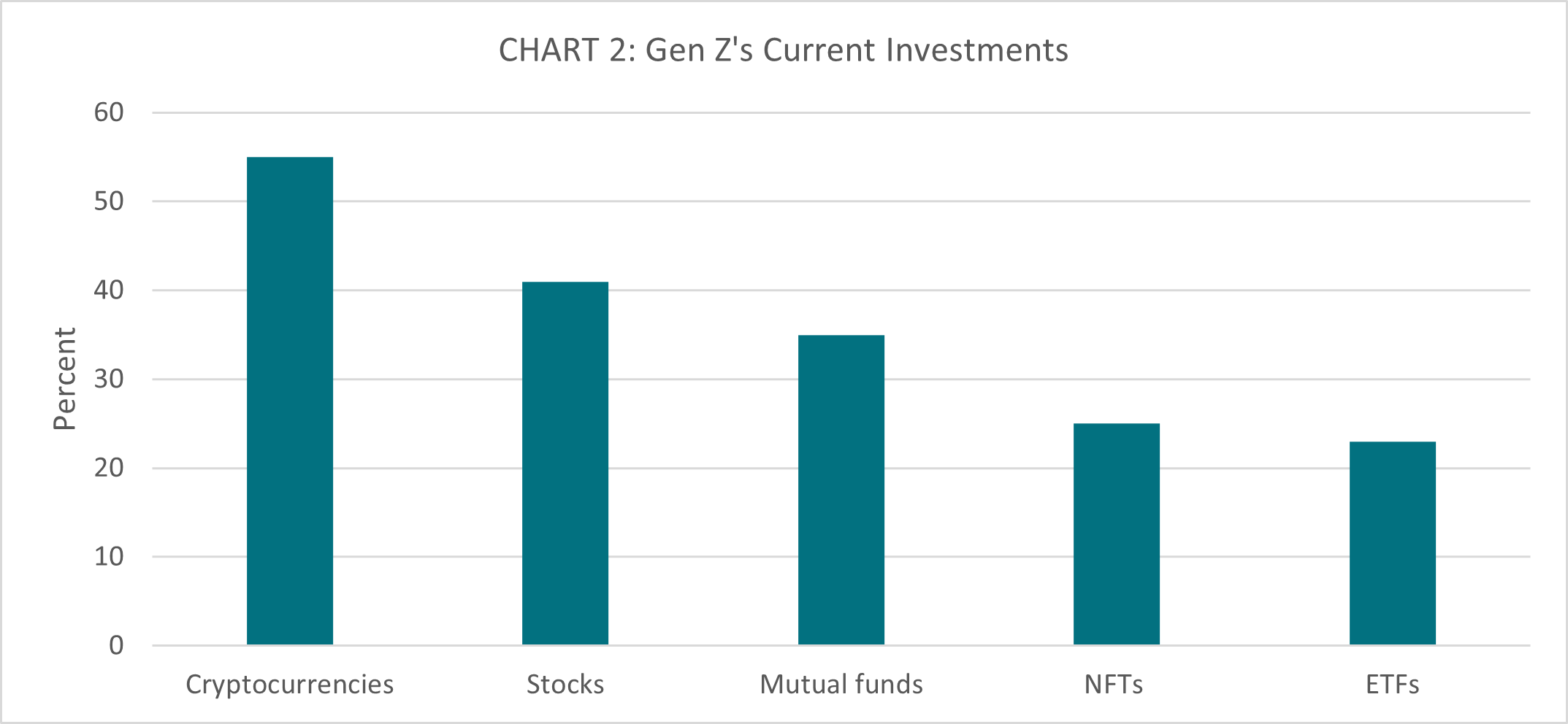 Source: Haver Analytics, CFA, Rosenberg Research (Gen Z and Investing: social media, Crypto, FOMO, and Family)
Image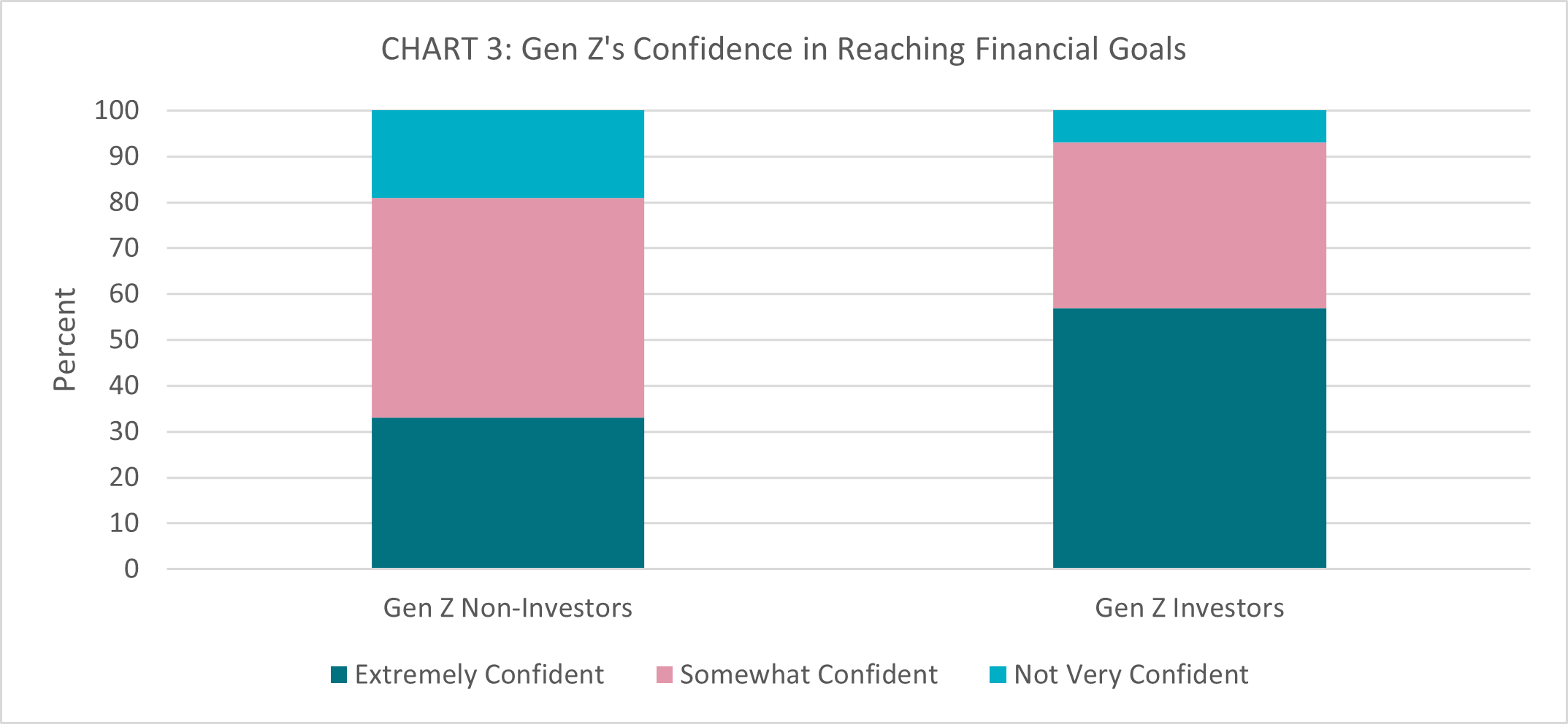 Source: Haver Analytics, CFA, Rosenberg Research (Gen Z and Investing: social media, Crypto, FOMO, and Family)
The upshot is that Gen Z is actually ahead of the curve on retirement savings, with 62% of Gen Zers participating in 401(k)s or similar retirement savings plans.13  19.3% of Gen Zers increased their 401(k) contributions in Q2 of 2023 (compared to 11% of Millennials and 9.7% of Gen Xers).14
Furthermore, younger generations stand to gain from the Great Wealth Transfer. Notably, the wealth amassed by the U.S. Baby Boomers and the Silent Generation, totaling $78 trillion, is expected to be passed on to their descendants, raising their purchasing power.15
Though continued inflation and soaring mortgage rates have reshaped this landscape more recently, Gen Zers' saving habits and the low mortgage rates brought on by the COVID-19 pandemic have them tracking ahead of Millennials and Gen Xers when it comes to homeownership, with nearly 30% of 25-year-olds owning their own homes.16 Inheritances from older relatives could make homeownership a reality for even more Gen Zers.
Gen Z and Gen Alpha as tech-focused, ethical consumers
Gen Z is proving to be exceptionally financially savvy, which could lead to an increase in purchasing power. This trend not only creates opportunities for businesses aligned with Gen Z's preferences to thrive but also offers a potentially profitable avenue for investors to explore. Gen Alpha is too young to spend today, but as they become teenagers and young adults, their purchasing power will rise quickly.
Looking at these young generations, the most notable areas that can potentially generate sustainable stakeholder value include:
Technology: As the first generation to be fully digital natives, technology is foundational to Gen Z. Social media usage amongst this generation is high. 95% of Gen Zers are on YouTube, 67% are on TikTok, and 62% are on Instagram.17 The average member of Gen Z spends an average of 3.4 hours per day streaming videos.18  19   Meanwhile, Gen Alpha is growing up in a different world, shaped by AI20 . While the usage of screens from young ages could have developmental impacts – something parents, educators, legislators, and investors alike will be closely monitoring – technology's prevalence and early adoption in this demographic will increase their digital literacy and appetite for digital solutions.
One trend that is widely popular with Gen Zers is buy now, pay later (BNPL) services. More than 44% of Gen Z have used a BNPL service at least once in 2022.21 Both startups and established players are expanding BNPL services, including PayPal, Block, and Affirm. With student loan payments resuming, BNPL services could gain more traction as these young consumers do not want to slow down their consumption habits.
Companies that provide access: While older generations prioritized ownership, Gen Z views consumption a little differently. For Gen Zers, consumption is about having access to products and services, which is why services like Uber, Lyft, bike shares, and streaming services like Netflix, Hulu, and Spotify are so popular and could present investment opportunities.22 For Gen Alpha, the sharing and streaming economy will likely remain popular because it's all they've ever known when it comes to consuming entertainment.
Personalization: Gen Z isn't afraid to spend more for what they want and will choose quality over price, but they aren't specifically after luxury, name-brand products.23 Instead, as the most diverse generation (until Gen Alpha comes of age), they consider consumption an expression of individual identity, meaning investing in companies that create personalized products reflective of Gen Zers is promising. So, it's hardly surprising that Nike has introduced Nike By You, a co-creation service that allows customers to personalize and design their shoes. Similarly, Function of Beauty enables shoppers to create custom shampoo, conditioner, and body wash.
Ethics and sustainability: Compared to previous generations, Gen Z shoppers are likelier to view consumption through an ethical lens, with 65% wanting to learn the origins of their purchases and 80% refusing to buy from companies involved in scandals.24 Gen Z's ethical concerns also extend to sustainability, as three-quarters of Gen Zers rank sustainability's importance higher than brand name.25 In fact, most members of Gen Z are willing to spend 10% more on sustainable products.26 There's reason to believe this trend with continue with Gen Alpha, as they are growing up with unparalleled exposure to information about social issues and world events.
Consumption habits of Gen Z
Since COVID-19 there has been a shift in Gen Z's consumption habits, relating in particular to basic retail categories such as food and apparel. Gen Z is leading the broad shift from dining out to eating in, as cost-consciousness rises and COVID-19 habits persist.27
Image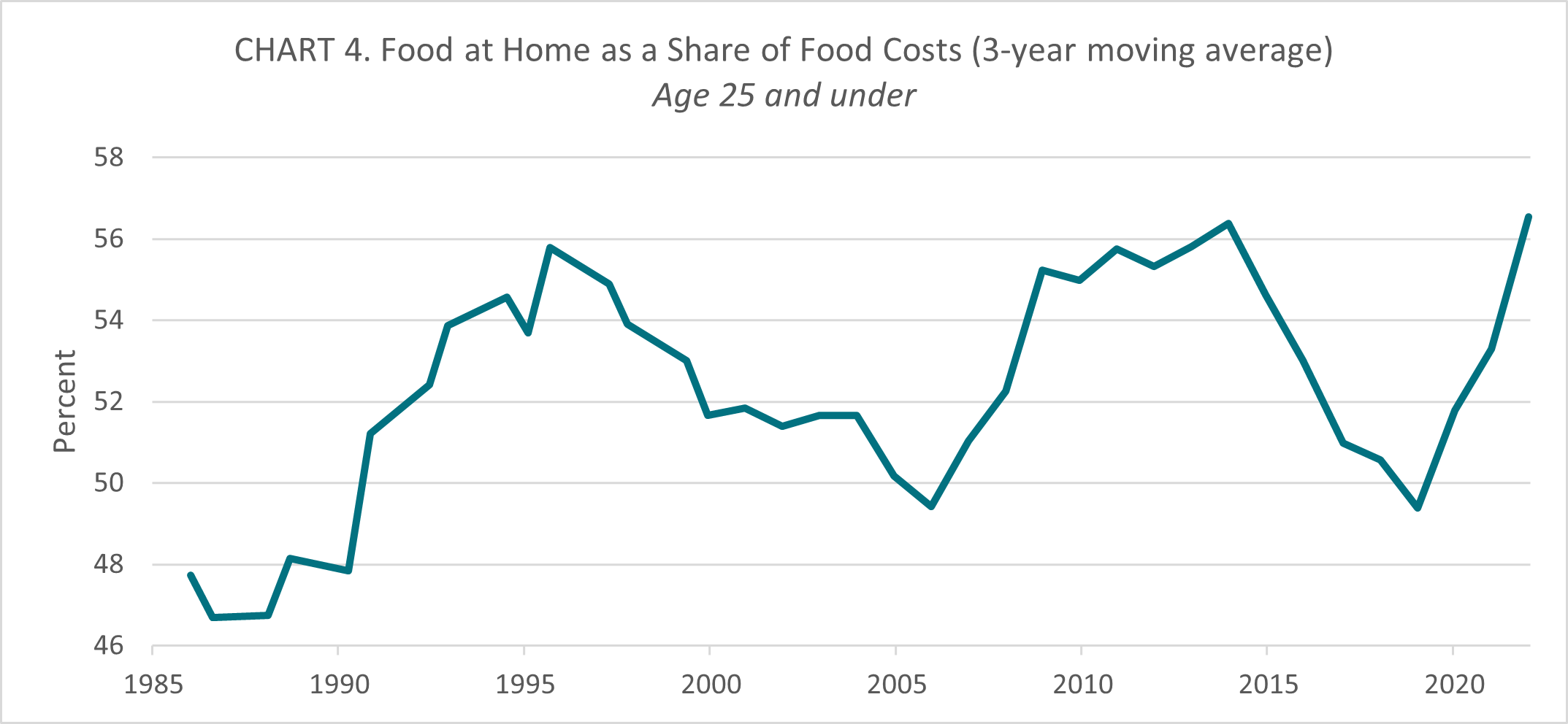 Federal Reserve of New York (n.d.): Household Debt and Credit Report
Image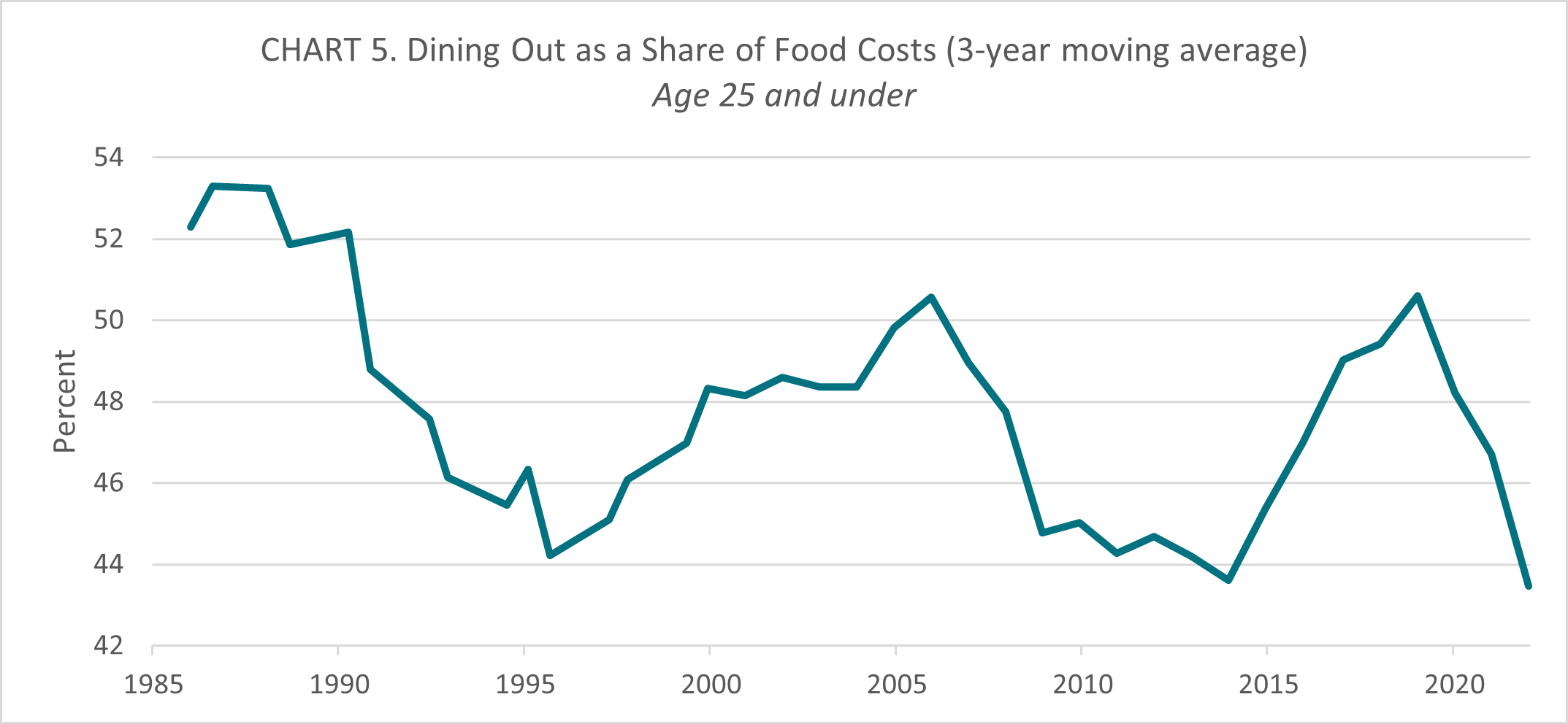 Source: Haver Analytics, BLS, Rosenberg Research, (Consumer Expenditure Survey)
The amount young people spend on apparel  as a share of total expenses has been declining since the 1990s, and 27% of this generation is more likely to shop secondhand.28 Depop, Poshmark, and eBay\ are popular marketplaces where people can buy and sell used clothes.29 The pandemic has made 60% of Generation Z more conscious about apparel that they buy, with many opting for higher quality items.30 At the same time, entertainment spending as a share of expenses bottomed out in 2021 but is now trending upwards.  Both show that Gen Z wants to spend on experiences rather than material goods such as fashion items, which may open up investor opportunities around services like travel.
Image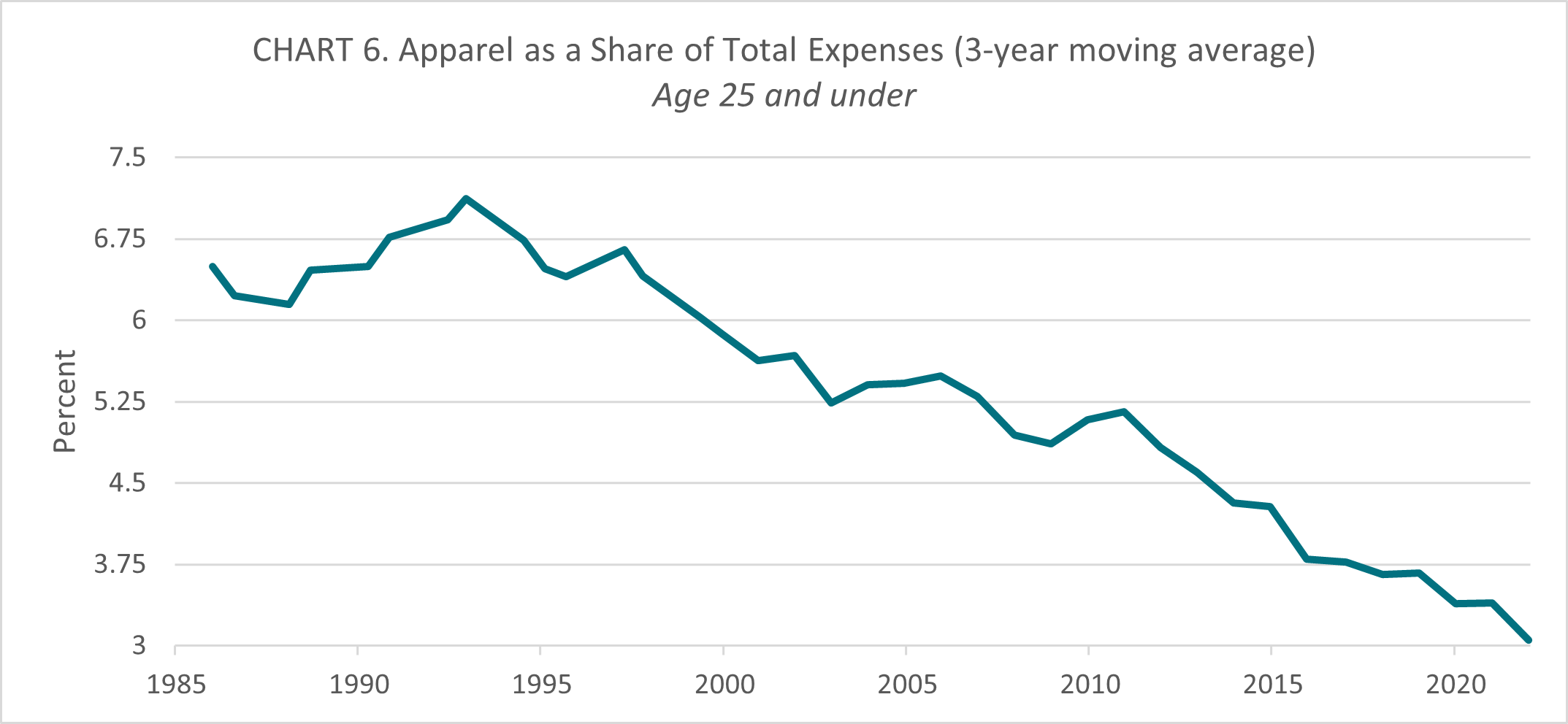 Source: Haver Analytics, BLS, Rosenberg Research, (Consumer Expenditure Survey)
A new generation rises up and has the potential to reshape the economy
The Silent Generation and Baby Boomers are slowly making their exit and losing their purchasing power, leaving room for Gen Z, which is set to become the largest cohort in the U.S. in around a decade, as well as the growing Gen Alpha, to potentially drive a Youth Boom Economy. Companies that can pivot to cater to these younger generations' needs may benefit financially, and investors can actually seek to reduce risk and increase their returns by paying attention to companies focusing on these youthful demographics.
VW5pdGVkIFN0YXRlcyBDZW5zdXMgQnVyZWF1ICg1LzI1LzIwMjMpOiAyMDIwIENlbnN1czogMSBpbiA2IFBlb3BsZSBpbiB0aGUgVW5pdGVkIFN0YXRlcyBXZXJlIDY1IGFuZCBPdmVy
U3RhdGlzdGEgKDYvMi8yMDIzKTogUG9wdWxhdGlvbiBkaXN0cmlidXRpb24gaW4gdGhlIFVuaXRlZCBTdGF0ZXMgaW4gMjAyMiwgYnkgZ2VuZXJhdGlvbg==
SW5zaWRlciBJbnRlbGxpZ2VuY2UgKDIvNy8yMDIzKTogR2VuIEFscGhhIHdpbGwgYmUgbW9yZSBkaXZlcnNlIHRoYW4gdGhlIHJlc3Qgb2YgdGhlIFVTIHBvcHVsYXRpb24=
UXVlc3Rpb24gdGhlIFF1byAoTWF5IDIwMjIpOiBHZW4gWiBUZWVucyBXYW50IFNob3J0ZXIsIE1vcmUgQWZmb3JkYWJsZSwgQ2FyZWVyLUNvbm5lY3RlZCBFZHVjYXRpb24gUGF0aHdheXM=
TWNDcmluZGxlICgyMDIwKTogVW5kZXJzdGFuZGluZyBHZW5lcmF0aW9uIEFscGhh
RmVkZXJhbCBSZXNlcnZlICgyMDIzKTogUmVwb3J0IG9uIHRoZSBFY29ub21pYyBXZWxsLUJlaW5nIG9mIFUuUy4gSG91c2Vob2xkcyBpbiAyMDIy
Um9vc2V2ZWx0IEluc3RpdHV0ZSAoMS8xLzIwMjEpOiBVbmJ1cmRlbmVkOiBIb3cgQ2FuY2VsaW5nIFN0dWRlbnQgRGVidCBDYW4gQm9vc3QgR3Jvd3RoLCBFcXVpdHksIGFuZCBJbm5vdmF0aW9u
U2F2aW5nIGZvciBDb2xsZWdlICgxLzEzLzIwMjMpOiBIb3cgTG9uZyBEb2VzIEl0IFRha2UgdG8gUmVwYXkgYSBTdHVkZW50IExvYW4/
Q05CQyAoMTEvMjAvMjAyMCk6IEdlbiBaIGluY29tZXMgcHJlZGljdGVkIHRvIGJlYXQgbWlsbGVubmlhbHPigJkgaW4gMTAgeWVhcnMgYW5kIGJlIOKAmG1vc3QgZGlzcnVwdGl2ZSBnZW5lcmF0aW9uIGV2ZXLigJk=
WWFob28hIEZpbmFuY2UgKDQvMjcvMjAyMyk6IDExIEJlc3QgR2lnIEVjb25vbXkgU3RvY2tzIFRvIEludmVzdCBJbg==
Q0ZBIEluc3RpdHV0ZSAoNS8xLzIwMjMpOiBHZW4gWiBhbmQgSW52ZXN0aW5nOiBTb2NpYWwgTWVkaWEsIENyeXB0bywgRk9NTywgYW5kIEZhbWlseQ==
SGF2ZXIgQW5hbHl0aWNzLCBDRkEsIFJvc2VuYmVyZyBSZXNlYXJjaA==
TW9uZXkgKDQvNi8yMDIzKTogR2VuIFogSGFzIGEgSHVnZSBIZWFkIFN0YXJ0IG9uIDQwMShrKSBTYXZpbmdzIENvbXBhcmVkIHRvIE9sZGVyIFdvcmtlcnMuIEhlcmXigJlzIFdoeQ==
Rm9ydHVuZSAoNC8xMC8yMDIzKTogR2VuIFogYW5kIG1pbGxlbm5pYWxzIGFyZSBvdXRwYWNpbmcgb2xkZXIgZ2VuZXJhdGlvbnMgaW4gNDAxKGspIGNvbnRyaWJ1dGlvbnMgYmVjYXVzZSB0aGV54oCZcmUgc28gd29ycmllZCB0aGV54oCZbGwgbmV2ZXIgYmUgYWJsZSB0byByZXRpcmU=
Q05CQyAoMTEvMjAvMjAyMCk6IEdlbiBaIGluY29tZXMgcHJlZGljdGVkIHRvIGJlYXQgbWlsbGVubmlhbHPigJkgaW4gMTAgeWVhcnMgYW5kIGJlIOKAmG1vc3QgZGlzcnVwdGl2ZSBnZW5lcmF0aW9uIGV2ZXLigJk=
UmVkZmluICg0LzIxLzIwMjMpOiBUaGUgUmFjZSB0byBIb21lb3duZXJzaGlwOiBHZW4gWiBUcmFja2luZyBBaGVhZCBvZiBUaGVpciBQYXJlbnRz4oCZIEdlbmVyYXRpb24sIE1pbGxlbm5pYWxzIFRyYWNraW5nIEJlaGluZA==
UGV3IFJlc2VhcmNoIENlbnRlciAoOC8xMC8yMDIyKTogVGVlbnMsIFNvY2lhbCBNZWRpYSBhbmQgVGVjaG5vbG9neSAyMDIy
RXhwbG9kaW5nIFRvcGljcyAoMi8xNS8yMDIzKTogNyBLZXkgR2VuIFogVHJlbmRzIGZvciAyMDIz
U3RhdGlzdGEgKDYvMjcvMjAyMyk6IEZyZXF1ZW5jeSBvZiBvbmxpbmUgc2hvcHBpbmcgYW1vbmcgR2VuIFogY29uc3VtZXJzIGluIHRoZSBVbml0ZWQgU3RhdGVzIGluIDFzdCBxdWFydGVyIDIwMjM=
SW5zaWRlciBJbnRlbGxpZ2VuY2UgKDIvNy8yMDIzKTogR2VuIEFscGhhIHdpbGwgYmUgbW9yZSBkaXZlcnNlIHRoYW4gdGhlIHJlc3Qgb2YgdGhlIFVTIHBvcHVsYXRpb24=
SW5zaWRlciBJbnRlbGxpZ2VuY2UgKDYvMjUvMjAyMSk6IEFsbW9zdCA3NSUgb2YgQk5QTCB1c2VycyBpbiB0aGUgVVMgYXJlIEdlbiBaIG9yIG1pbGxlbm5pYWxz
TWNLaW5zZXkgKDExLzEyLzIwMTgpOiDigJhUcnVlIEdlbuKAmTogR2VuZXJhdGlvbiBaIGFuZCBpdHMgaW1wbGljYXRpb25zIGZvciBjb21wYW5pZXM=
TWNLaW5zZXkgKDgvNC8yMDIwKTogTWVldCBHZW5lcmF0aW9uIFo6IFNoYXBpbmcgdGhlIGZ1dHVyZSBvZiBzaG9wcGluZw==
TWNLaW5zZXkgKDExLzEyLzIwMTgpOiDigJhUcnVlIEdlbuKAmTogR2VuZXJhdGlvbiBaIGFuZCBpdHMgaW1wbGljYXRpb25zIGZvciBjb21wYW5pZXM=
Rm9yYmVzICgyLzE4LzIwMjIpOiDigIvigItHZW4gWiBBbmQgU3VzdGFpbmFiaWxpdHk6IFRoZSBEaXNydXB0aW9uIEhhcyBPbmx5IEp1c3QgQmVndW4=
TkFTREFRICg5LzIzLzIwMjIpOiBIb3cgTWlsbGVubmlhbHMgYW5kIEdlbiBaIEFyZSBEcml2aW5nIEdyb3d0aCBCZWhpbmQgRVNH
RmVkZXJhbCBSZXNlcnZlIG9mIE5ldyBZb3JrIChuLmQuKTogSG91c2Vob2xkIERlYnQgYW5kIENyZWRpdCBSZXBvcnQ=
RXhwbG9kaW5nIFRvcGljcyAoMi8xNS8yMDIzKTogNyBLZXkgR2VuIFogVHJlbmRzIGZvciAyMDIz
U3VzdGFpbmFibGUgSnVuZ2xlICg1LzMvMjAyMyk6IDMzIFNlY29uZCBIYW5kIFN0b3JlcyBGb3IgVGhlIEJlc3QgT25saW5lIFRocmlmdCBTaG9wcGluZw==
Vm9ndWUgQnVzaW5lc3MgKDgvMjAvMjAyMSk6IEdlbiBaIFNob3BwaW5nIFRyZW5kcyBVbmNvdmVyZWQ=
---
Risk Warning:
Investment involves risk including the loss of capital.